Maximize your outcomes with one integrated platform.
The Radancy Talent Acquisition Cloud is the leading global SaaS platform that optimizes the entire candidate journey to maximize ROI, decrease costs and enable hiring qualified talent faster.
Get faster, more effective and cost-efficient results.
Radancy is committed to delivering customer success through our industry-leading platform,
supported by world-class professional services, to maximize your outcomes.
↓54%
Cost Per Application
Sample results from Radancy customers.
Maximize Reach
Target the right talent with a platform that intelligently adjusts job exposure across multiple tactics and channels for optimal performance.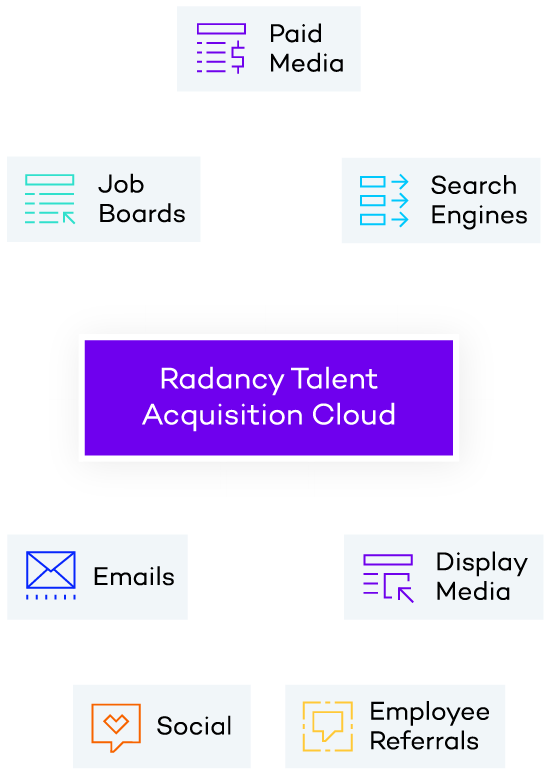 Optimize Touchpoints
Deliver personalized branded experiences across the candidate journey, leveraging user engagement and network intelligence to drive success.
Increase Efficiency
Leverage data-driven automation, tools and insights to target quality talent, save time and reduce the volume of apps needed to make a hire.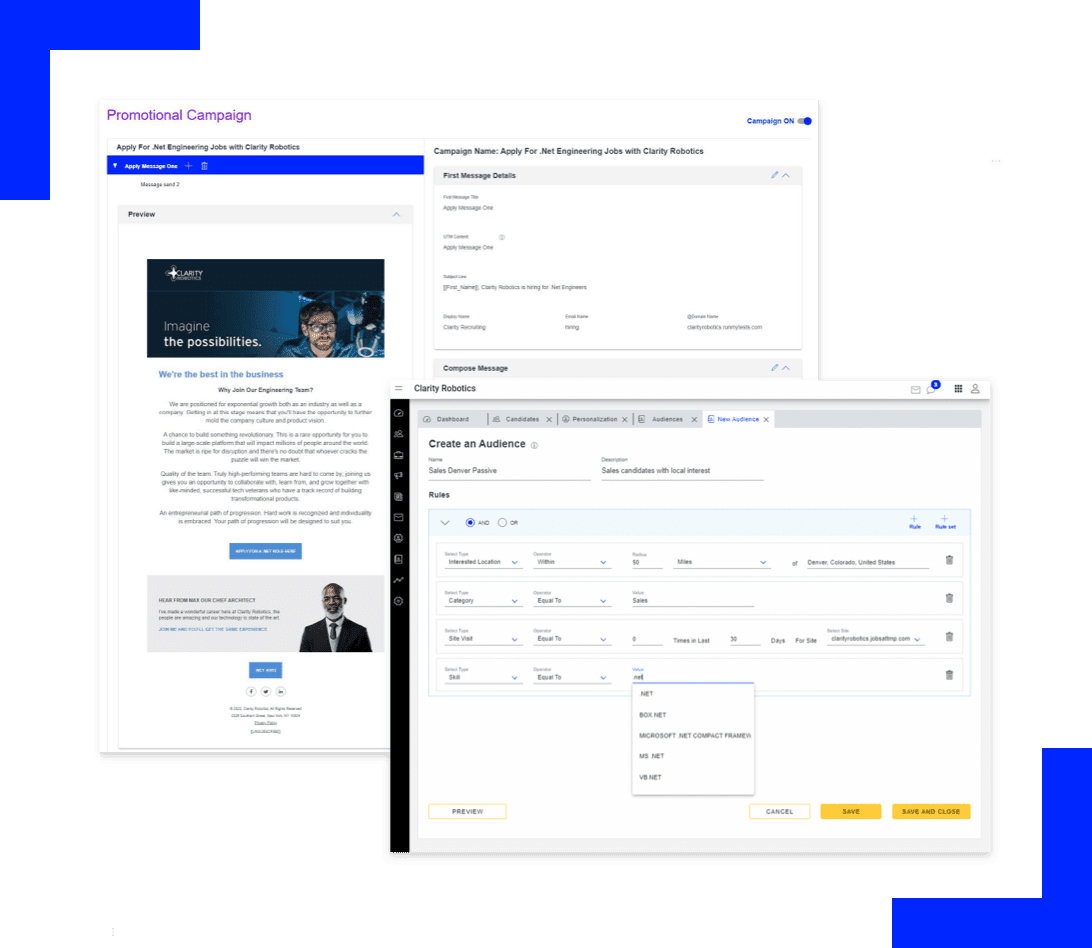 See the benefits of the Radancy Talent Acquisition Cloud in action.
Connect with us today to schedule a demo of the industry-leading talent acquisition platform.
Get actionable insights.
Access direct insight into your talent acquisition strategies across our entire cloud-based platform. You'll receive reports on key metrics, including candidate activity, job counts and application details from your active campaigns.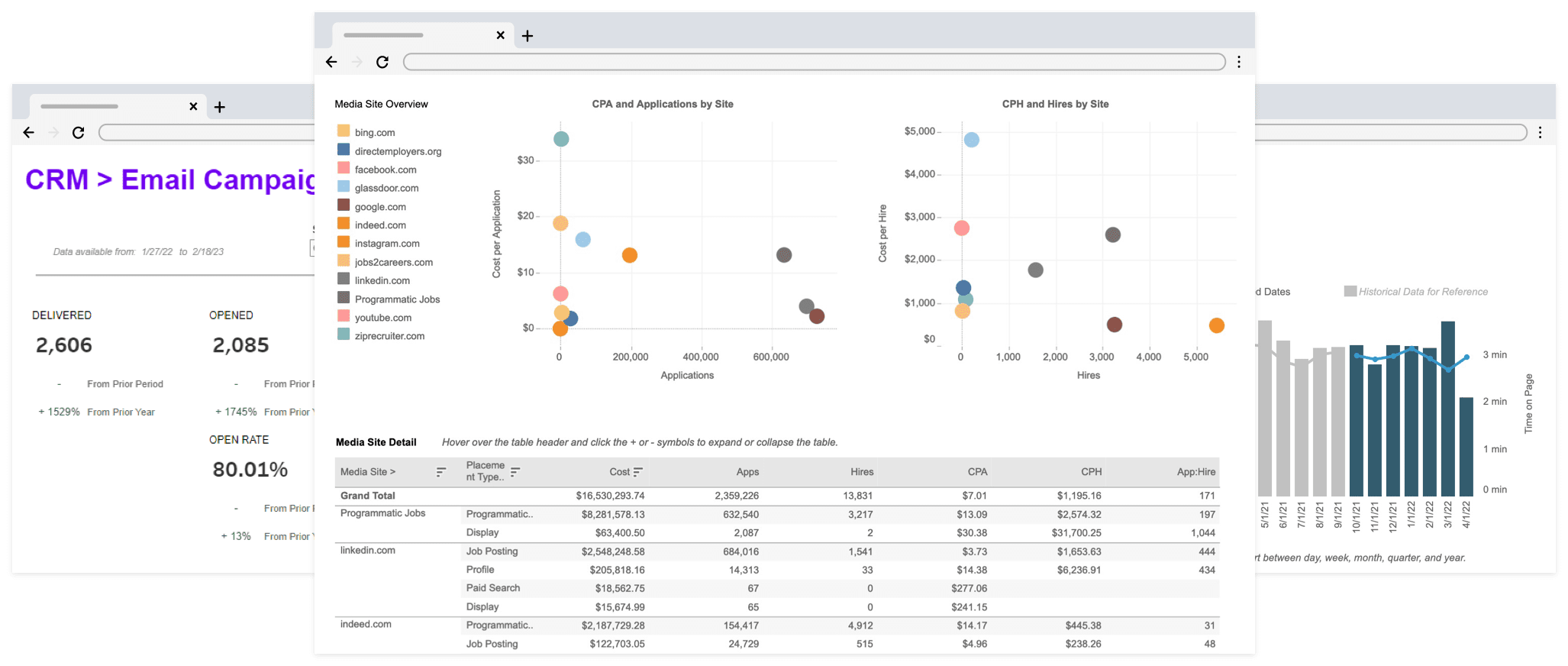 "Implementing the new branding on our Career Site will ensure we are able to serve each candidate information specific to their priorities wherever they are in their search. Radancy understands candidate behavior and how to convert candidates into hires!"
LAURA DARRELL, VP of Operations and
Training, Boston Pizza
"Radancy has multiplied the reach of our recruiting network. We can reach our candidates where they are – and there's nothing more authentic than employee referrals."
ROLAND DROSTE, HR Director, Arvato SCM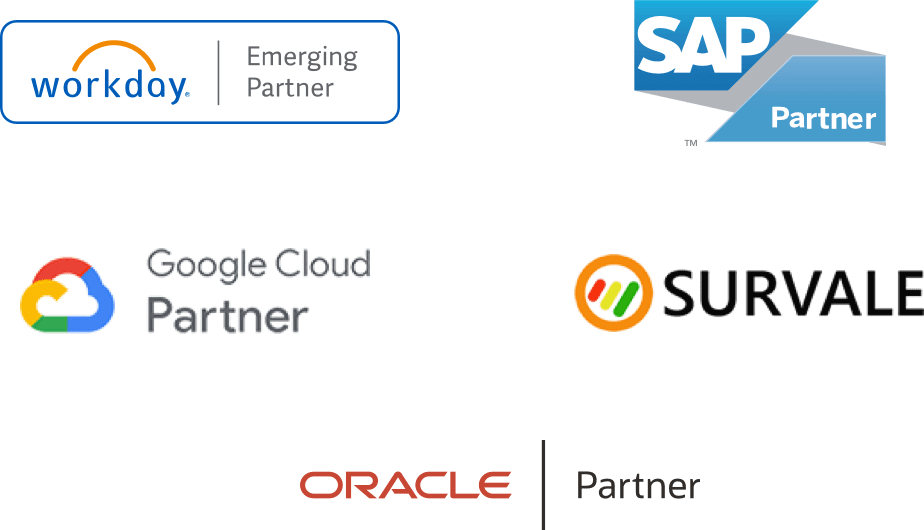 Strong partnerships and integrations with proven success.
Radancy partners with industry leaders to deliver job seekers a seamless experience, from the first message to hire, and everything in between.
Connect with us to optimize your ROI, reduce costs and hire faster.
Request a DEMO