Customer Solutions Galeria
From job portal to connected career site: How Radancy helped GALERIA improve the candidate experience.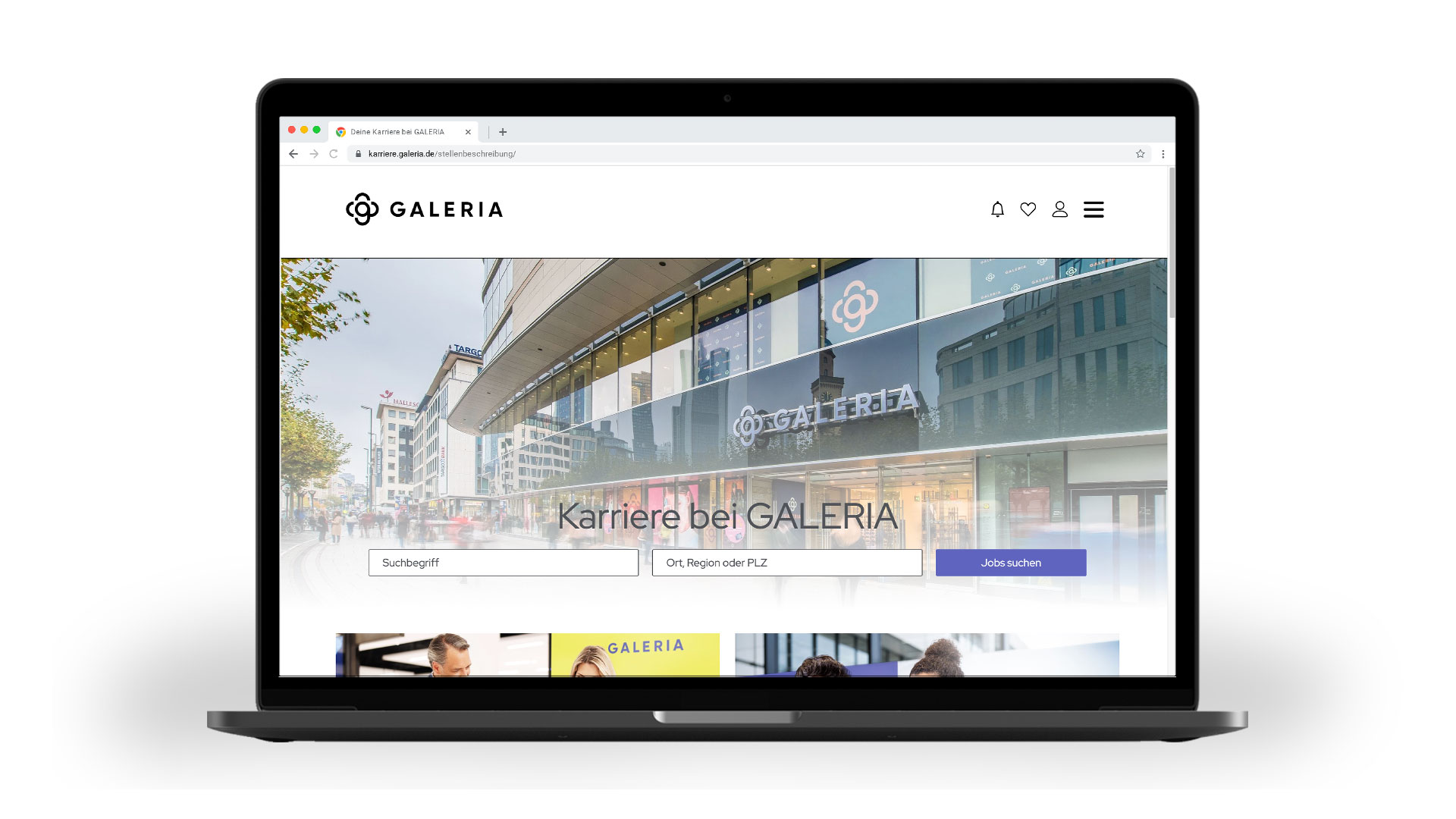 The challenge
As a retailer with more than 130 branches throughout Germany and over 18,000 employees, GALERIA faces the challenge of filling various positions on a daily basis. In order to efficiently cover this talent shortage, the company was looking for a solution to increase the visibility of the employer brand and create an optimized candidate experience.
The low reach of the previous career site, inflexible templates and rudimentary tracking made it difficult for the company to target suitable candidates.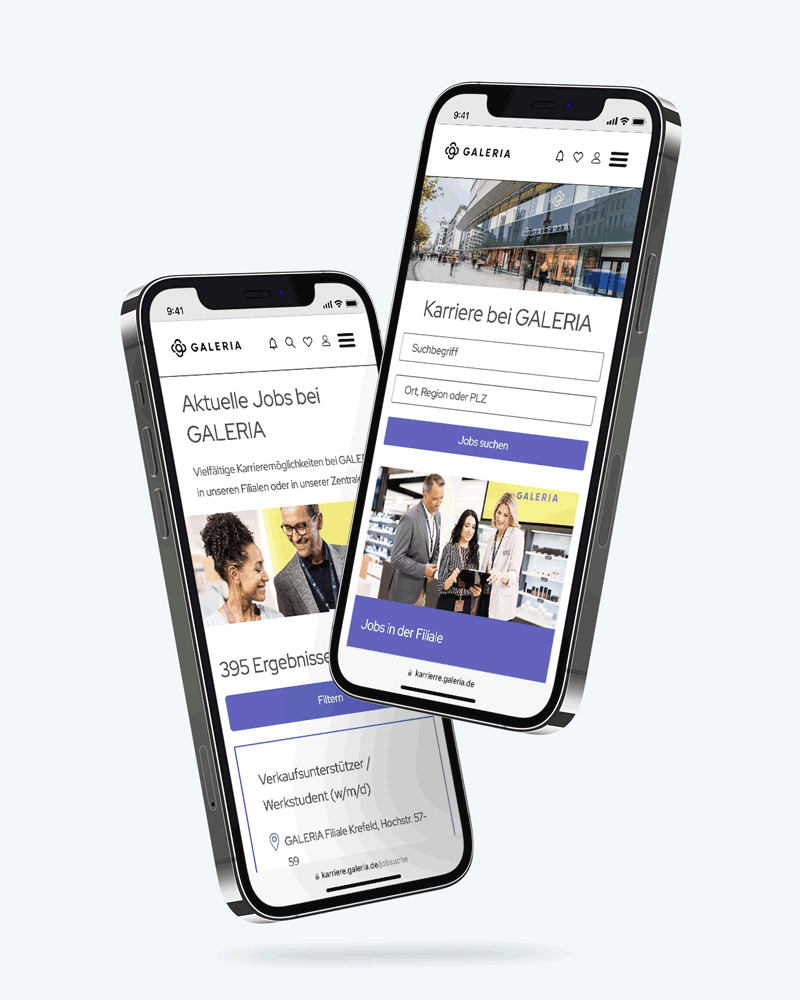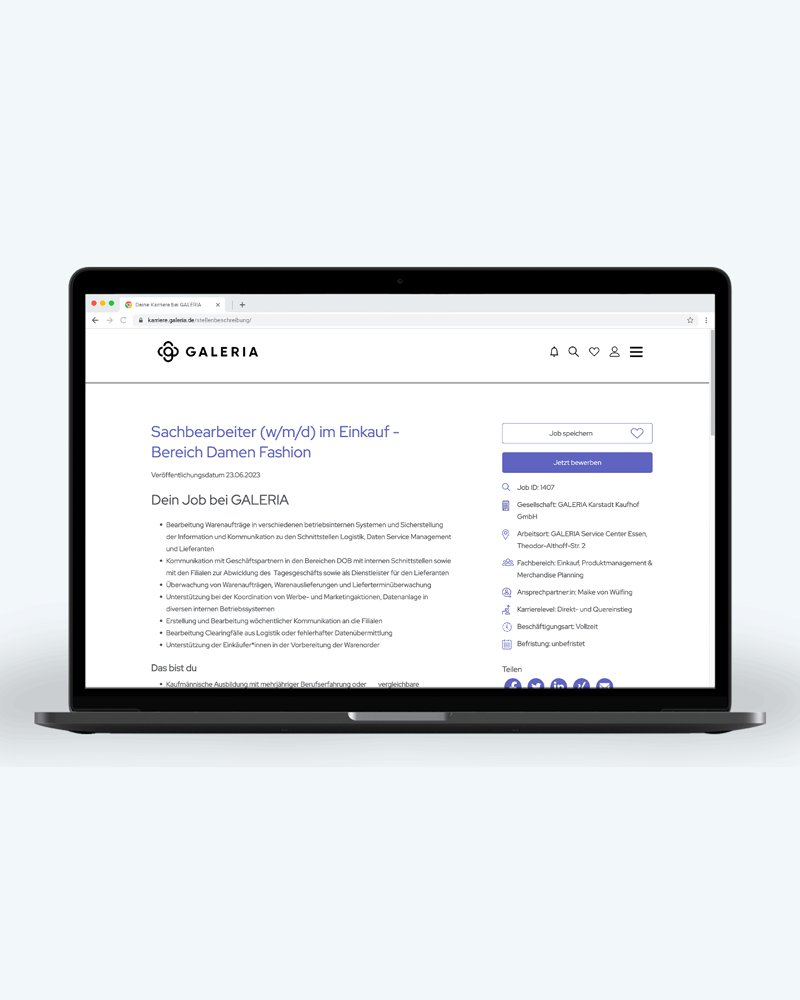 The solution
Radancy developed a networked career site for GALERIA with a new design. In order to increase visibility through targeted SEO measures, Radancy improved the site structure, increased accessibility and performance, used the Google for Jobs scheme, created dynamic landing pages and filled the mobile-first career site with useful content—all optimally linked.
The new, intelligent career site has automatic location recognition and offers extensive filter options so that candidates can find the jobs that suit them best. Thanks to the personalized job offers and the networked content strategy, applicants can expect an individualized candidate experience with every visit.
With Advanced Job Descriptions (job description as a landing page, success profiles, impressions of real employees and much more), the job advertisements have become landing pages and now offer potential applicants extensive information about the job and the company. In addition to success profiles, impressions of employees and the GALERIA culture, the Advanced Job Description also provides a detailed career path and information on benefits.
The results
Compared to the old GALERIA career site, organic Google traffic has increased by 225%, and a larger reach means more applications.
In addition, the career site has been optimized for mobile use and now reaches 55% more mobile users than before.
The Advanced Job Descriptions ultimately resulted in a 57% increase in conversion rates.
+255% Organic Traffic

From Search Engines

+55% More Candidates

From Mobile

+57% Apply Click Conversion Rate

through Advanced Job Descriptions compared to standard job descriptions for the same category
Solutions you can count on. Perspective you need. And a commitment to results you deserve.
Connect with Us