Our People
Grant Waege
Director of Infrastructure Services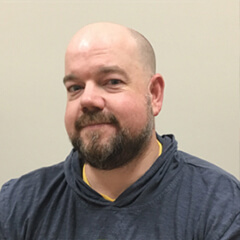 When did you start working for Radancy?
April 2015
What is your current role and responsibilities?
I am the Director of Infrastructure Services for Radancy. I lead the Help Desk and Desktop Support teams. We are a part of the global information technology infrastructure department, which is responsible for all aspects of the computer systems employees use to perform their jobs. We support computers, phones, conference rooms, server rooms and much more, as well as support and manage applications and data that are used daily.
What does your department do?
My department makes sure everyone has the technology tools available to perform their job. This includes both hardware and software.
What other roles have you had while at Radancy?
I started with Radancy working as Manager of Infrastructure Services. I have recently taken on more voice and network responsibility for the team.
What do you think is the best part about working at Radancy?
Radancy has a casual work environment with a great work-life balance.
What's one interesting fact about yourself that your coworkers don't know?
I worked as a Bellhop at a five-star hotel during college. I met tons of celebrities including politicians, dignitaries, athletes and musicians. Nicest Celebrities? Drew Cary, Sheryl Crow and Little Richard. Not so nice celebrities? You'll have to read my book to find out. I just need to find the time to write it.
Solutions you can count on. Perspective you need. And a commitment to results you deserve.
Connect with Us