Security Architect
New York, New York
Overzicht
Radancy transformeert de manier waarop bedrijven in contact komen met kandidaten via ons toonaangevende SaaS-platform voor talentwerving. Als lid van ons IT-team zal jouw werk de wereldwijde infrastructuur van ons veilige en schaalbare cloudbased platform ondersteunen. Bij Radancy beschik je over de allernieuwste tools en middelen die je nodig hebt om je krachtig te voelen in je carrière.
Information Technology
Hybrid
Regular Full-Time
Succes criteria
Wat maakt een succesvolle Security Architect? Bekijk de eigenschappen die we zoeken en check of jij de juiste mix hebt.
Communicatieve vaardigheden
Organisatorische vaardigheden
Probleemoplossend
Goed kunnen plannen
Onderzoekend
Resultaatgericht
Onze Cultuur
Laat je iedere dag weer inspireren door een succesvolle technologiecarrière.
Ga alle uitdagingen aan door voortdurend te innoveren en ideeën te bedenken die ons schaalbare, datadriven platform verbeteren.
Werk samen met uiteenlopende teams, van engineering en data tot UX en meer, die jou en onze toonaangevende technologie ondersteunen.
Help onze technologie en onze organisatie vooruit door je volledige authentieke zelf te zijn. Bij Radancy wordt iedere stem gewaardeerd.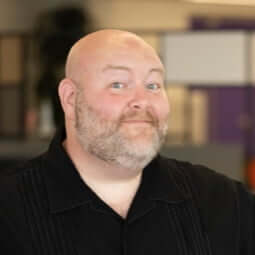 "Ik heb absoluut het gevoel dat mijn werk ertoe doet bij Radancy. De applicaties die ik bouw hebben impact op de groei van onze organisatie en helpen onze klanten verder."
Voordelen
Gezondheidszorg

Uitgebreide dekking met flexibele opties waaronder FSA en HSA

Flexibele vrije tijd

Vakantie. Je verjaardag. Gewoon een dag voor jezelf, neem de tijd die je nodig hebt.

Ouderschapsverlof

Je hebt 6 weken betaald ouderschapsverlof, zodat je je kunt concentreren op wat belangrijk is: een band opbouwen met je groeiende gezin.

Autonomie

Innoveer, stel vragen zoals "wat als?" en probeer nieuwe oplossingen zonder angst om te falen.

Samenwerking

Werk nauw samen met teams van verschillende afdelingen en leveranciers om je kennis te verbreden.

Verscheidenheid

Wereldwijd bereik, groot klantenbestand en een breed productaanbod;- geen dag zal hetzelfde zijn.
Onze onderscheidingen
Bij Radancy staan we bekend om onze toonaangevende technologie, maar we zijn daarnaast minstens net zo trots om bekend te staan als een geweldige plek om te werken en waar je je kunt blijven ontwikkelen in je carrière.
Best Places to Work in Atlanta
Built In2023
Best Large Places to Work in Atlanta
Built In2023
Best Large Places to Work in Boston
Built In2023
Best Large Places to Work in Chicago
Built In2023
Best Large Places to Work in Los Angeles
Built In2023
Best Large Places to Work in Miami
Built In2023
Best Places to Work in Miami
Built In2023
Best Large Places to Work in Washington, DC
Built In2023
Best Places to Work in Washington, DC
Built In2023
Best Company Leadership
Comparably2022
Best Work-Life Balance
Comparably2022
Best Companies to Work For
InHerSightAugust 2022
Best Company New York
Comparably2022
Best Companies Sense of Belonging
InHerSightSeptember 2022
Best Companies to Work for As Rated by the Women Who Work There
InHerSightNovember 2022
Best Places to Work
InHerSightDecember 2021
Best Companies for Ability to Telecommute
InHerSightDecember 2021
Verantwoordelijkheden
Overview
The Security Architect within Radancy's Enterprise Architecture ('EA') group works with systems and software engineers, as well as Radancy's Governance, Risk, and Compliance group ('GRC') for all matters related to the design and development of secure application and infrastructure architectures for Cloud, Hybrid, and On-Prem infrastructure for internal and client stakeholders. The Security architect is responsible for advising teams on secure design standards, as well as coordinating with those teams to implement effective and secure solutions and producing design documents and artifacts used in the implementation phase of those projects. The Security Architect works closely with the GRC team to ensure proper oversight of the security and compliance of the organization.  The GRC team's focus is to identify current and future risks to Radancy's Unified Platform and corporate computing environments, and to provide consistent and coordinated responses to Information Security, Regulatory, and Compliance incidents and events.  
Studies have shown that women and people of color are less likely to apply for jobs unless they believe they meet every one of the qualifications in a job description. Our top priority is finding the best candidate for the job and if you are interested in the position, we would encourage you to apply, even if you don't believe you meet every one of the qualifications below.
Verantwoordelijkheden
Understand the security requirements of our

Product

software stack

and IT

environment.
Apply threat modeling techniques

to e

va

l

uate risks and threats to Radancy technology;

Formulate security architecture recommendations

based on those threat

models.

Actively

participate

in systems design to ensure consistent implementation of security policies and procedures

.

Support technology teams in the project kickoff and design phase, guiding teams to

appropriate security

architectures.

Ensure that existing systems and network architecture

comply with

company security policies, standards, and procedures.

Provide

technical guidance and

expertise

for internal technology teams to enhance their security practices,

educate process owners on the importance of controls, and an effective control

environment.

Review information risk and advise on Technology Projects, Change Management Process, Significant changes to IT procedures, IT Asset Management, 3

rd

Party Vendor Contracts, IT Disaster Recovery Plan/Process, Record Retention Process, and Internal or external audit findings.
Stay up to date on Cybersecurity trends and advances and help to update the information security strategy to

leverage

new technology

and threat information.

Research emerging technologies in support of security enhancement and development efforts.

Assist

in responses to external audits.

Create regular reports for upper management based on metrics and data

analysis.

Continuously

identify

gaps in security program coverage.

Develop and enhance information security documentation, such as policies, standards, and

procedures.
Qualifications
Familiarity with process and architecture modeling (

e.g.,

TOGAF,

Archimate

).

Strong practical knowledge of web security standards (e.g., SANS Top-20, OWASP Top-10, etc.).

Experience securing web applications and a strong understanding of web application design,

functions

and Software Development Life

cycle.

Familiarity with the concepts of CASB, Data Lakes, Hadoop, Machine-Learning.
Experience in analyzing data and

providing

metrics, technical diagrams, topology maps,

reports,

and presentations.

Technical

Domain Knowledge

:
Server and Desktop Operating Systems

and Networking

Scripting and Programming experience

Access Management, including R

emote Access

/Authentication

Solutions
EDR, AV, and SIEM tools

Cryptography,

standards

and protocols such as PKI, Key management (software and hardware based), key lifecycle, digital certificates, SSL/TLS, SSH, integration into overall security architecture and means to

operationalize.

Wireless Security

Network Intrusion Detection and Prevention Systems

Cloud Technologies
Virtualization

CI/CD and Development Pipelines

Containerization

Authentication
7

+ Years working in IT

, Information Security, Architecture, or Engineering

(with an emphasis on

Network/Systems/Cloud Security

Architecture

preferred).

Industry Certification

(

e.g.,

CISSP, CISM

, CCNP

).

Ability to occasionally adjust work schedule to meet business needs (occasional after hours and weekend requirements).

Ability to work effectively with both local and remote staff, teammates, managers, MSPs, and contractors.

Ability to drive adoption of security architecture

standards.

Familiarity with the following regulatory and control frameworks: ISO 27001, ISO 27002, NIST 800 series publications, SOC 2, HITRUST, CIS, CSA, GDPR, CCPA, Cross Border Data Transfer and Data Localization requirements.
Join the global leader in talent acquisition technologies that's committed to finding new ways to leverage software, strategy and creative to enhance our clients' employer brands – across every connection point. We're looking for unconventional thinkers. Relentless collaborators. And ferocious innovators. Talented individuals who are ready to work towards solutions that transform the way employers and job seekers connect.
Salary Range: $135,000.00-$155,000.00
*The above range is based on a wide array of factors unique to each candidate, including but not limited to skill set, years and depth of experience, certifications, and specific office location.
Radancy is an equal opportunity employer and welcomes all qualified applicants regardless of race, ethnicity, religion, gender, gender identity, sexual orientation, disability status, protected veteran status, or any other characteristic protected by law. We actively work to create an inclusive environment where all of our employees can thrive.