Senior Copywriter
New York, New York
Postuler
Overview
We're looking for unconventional thinkers. Relentless collaborators. And ferocious innovators. Talented individuals who are ready to work toward solutions that transform the way employers and job seekers connect.
As an experienced Copywriter, you'll team up with other creatives in our no-ego, fast-paced environment to bring brands to life across all types of media that connect to our software solutions. And you'll do it for some of the most recognized names in the world. Here, you'll brainstorm big ideas and distill robust content and research into unique concepts, disruptive headlines and emotive copy, both long-form and short-form. Websites. Social. Experiential. Video. New software products. You'll be involved in it all.
We are an ideal environment for those self-driven copywriters who look forward to coming up with the next great idea, but who also get excited about collaborating on the little things it takes to write and execute entire campaigns.
Studies have shown that women and people of color are less likely to apply for jobs unless they believe they meet every one of the qualifications in a job description. Our top priority is finding the best candidate for the job and if you are interested in the position, we would encourage you to apply, even if you don't believe you meet every one of the qualifications below.
Responsibilities
What does a great Senior Copywriter do?
Bring big ideas to the table that inspire every level of our media strategies.
Possesses an uncompromising commitment to amazing, industry-defining creative.
In partnership with Art Directors and Creative Director, participates in (and at times leads) creative concepting sessions to deliver industry-defining work across all media.
Translates concepts into fresh, cutting-edge and effective copy while leveraging existing assets and/or creating or sourcing new ones.
Develop effective headlines, body copy and long-form copy for all advertising needs including but not limited to: traditional ad campaigns, websites, email campaigns, banner advertising, social media, mobile marketing, creative rationales, RFPs, and presentations
Helps present concepts internally to CDs and Account/Sales teams and actively participates in client calls and meetings with an eye toward building and strengthening relationships.
Works with Project Managers, Digital Strategists, Producers and Account Service team members to help define client challenges and goals – and to develop strategic and creative solutions that meet those goals.
Edit, proofread and provide constructive feedback on written deliverables
Define and translate client needs into strategic documents
Never stops learning. Everyone on our team helps formulate ideas and drive effective creative with the goal of staying ahead of best practices, trends and innovations, content generation/development and new technology.
Mentor other writers, especially junior writers, on their writing, concepting, editing and proofreading skills.
Qualifications
B.A. degree from four-year college or university, preferably in Advertising, Marketing, Journalism, English or related field, or equivalent combination of education and experience
Six to ten years of writing experience in an advertising or marketing environment
Agency experience preferred
Excellent written and verbal communication skills
Presentation and mentoring skills
Demonstrated creative ability
Strong organizational skills and attention to detail
Ability to be flexible, adapt to quick changes, and work under tight deadlines
Positive attitude and a strong desire to learn
Working proficiency with Microsoft Office Suite, Keynote and PowerPoint.
*Please include writing samples or a link to your portfolio.
Radancy is the global talent technology leader intelligently solving the most critical challenges for employers and delivering results that strengthen their organizations. Our unified platform, augmented by rich data and deep industry expertise, is revolutionizing how employers attract and hire the talent they need.
Salary Range: $75,000-$90,000*
*The above range is based on a wide array of factors unique to each candidate, including but not limited to skill set, years and depth of experience, certifications, and specific office location.
Radancy is an equal opportunity employer and welcomes all qualified applicants regardless of race, ethnicity, religion, gender, gender identity, sexual orientation, disability status, protected veteran status, or any other characteristic protected by law. We actively work to create an inclusive environment where all of our employees can thrive.
Postuler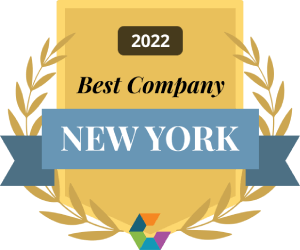 Travailler à New York
Consultez où vous pourriez travailler.
Voir la Carte

of This Location
Dernières offres d'emploi
You have not recently viewed any jobs.