Justin Chiccarine
Account Director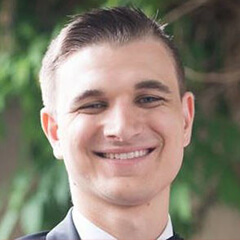 When did you start working for Radancy?
May 2014
What is your current role and responsibilities?
I'm an Account Director in charge of U.S. advertising needs for a Fortune 50 client. Each year, this client needs to hire hundreds of thousands of employees. Managing the recruitment marketing aspect and working with my team, I lead the charge in developing and implementing the strategy behind these hiring efforts.
What does your department do?
We work solely on this client's account and are essentially a one-stop shop for all things recruitment-related – from advertising to career site improvement, to maintaining their enhanced, custom metrics program.
What other roles have you had while at Radancy?
Account Executive.
What do you think is the best part about working at Radancy?
The best part about Radancy is the people. I have so many brilliant colleagues that I depend on to help me do my job. Without the diverse mindsets across the company, we would not be able to reach the level of success that we have over the years.
What's one interesting fact about yourself that your co-workers don't know?
I was the Varsity Cross Country Captain in high school and could run a 17-minute 5K.