Diane Crawford
Senior Quality Assurance Engineer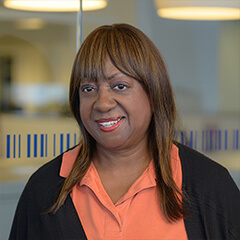 When did you start working for Radancy?
July 2012
What is your current role and responsibilities?
I work with Digital Project Managers (DPMs) on Radancy client career sites and pages to perform functional, creative and baseline accessibility test verification in the pre-production environment via PC desktop browsers, tablet, and mobile devices. Smoke testing is performed in the production environment to ensure the sites and pages meet Radancy standards and achieve client expectations. I participate in training new QA Engineers on the test verification process for assignment and completion of projects. In addition, I create review and update Implementation QA documents that are shared with the team for their involvement in final documentation.
What does your department do?
The Implementation QA Department bears responsibility to ensure Radancy client career sites and pages are ready for publication in the production environment via testing. We utilize a variety of tools and applications during the test verification process that provide specific details regarding the structure, layout, creative and accessibility aspects pertaining to the specific site and/or page.
What other roles have you had while at Radancy?
Quality Assurance Engineer.
What do you think is the best part about working at Radancy?
New and exciting challenges that occur during the process of my daily routine and activity.
What's one interesting fact about yourself that your coworkers don't know?
I serve on the Board of Directors of the American Association of University Women of New Jersey and have servec on a national committee for the American Association of University Women.