Our People
Diane Crawford
Senior Quality Assurance Engineer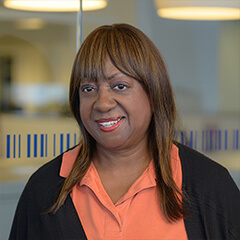 When did you start working for Radancy?
July 2012
What is your current role and responsibilities?
I'm a Senior Quality Assurance Engineer. I perform test verifications on career websites and standalone pages via PC desktop browsers, tablet and mobile devices prior to production site launch. I also execute smoke testing on career websites in the production environment to ensure they meet our standards and client satisfaction expectations.
What does your department do?
Prepare implementation of career websites in the pre-production and production environments utilizing a variety of test procedures, processes and tools.
What other roles have you had while at Radancy?
Quality Assurance Engineer.
What do you think is the best part about working at Radancy?
New and exciting challenges that occur during the process of my daily routine and activities.
What's one interesting fact about yourself that your coworkers don't know?
I serve on the Board of Directors of the American Association of University Women of New Jersey and on a national committee, the American Association of University Women.
Solutions you can count on. Perspective you need. And a commitment to results you deserve.
Connect with Us