Almir Mehic
Director, Customer solutions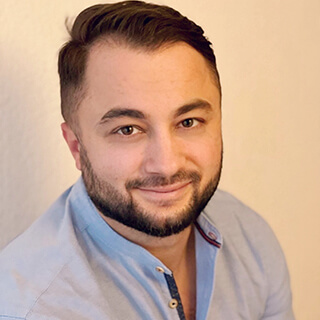 What is your current role and responsibilities?
As a Director Customer Solutions, my primary role is to manage a portfolio of accounts and deepen client relationships with key, senior stakeholders – always keeping the success of the client at the forefront of my activities.
What does your department do?
I also steer clients' development and foster growth by providing the most suitable solution from our wide range of software products and services for all my clients. Plus, I lead and work with the customer success team, to ensure that we execute stellar service delivery, whether it's platform, creative or media-related work. I'm very proud to be part of this amazing team!
What other roles have you had while at Radancy?
Before becoming a Director Customer Solutions, I was working as Client Strategist and before that as an Account Director.
Advice you would give to new employees?
Be curious and be open. See yourself as a true pioneer who explores a new landscape and new opportunities! You just found the treasure map, and Radancy will provide you with the right tools to find the treasure – you just need to take advantage of it!
One interesting fact about yourself that coworkers do not know?
I have a second-degree black belt (2nd Dan) in Tae Kwon Do, which helps me in dealing with all kinds of challenges.