Our People
Adriana Covate
Content Strategist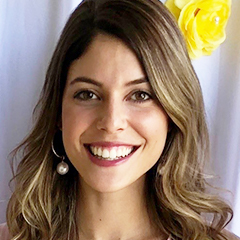 When did you start working for Radancy?
July 2016
What is your current role and responsibilities?
I'm a Content Strategist, which means I serve as a content and social media subject matter expert, working with the Content Marketing, Creative and SEM teams to execute content and social strategies for our clients. I also work closely with our account teams to help build branded candidate experiences and content that is imaginative, original and fresh.
What does your department do?
The Content Marketing team supports clients with their content marketing strategies, including content and creative development and social promotion.
What other roles have you had while at Radancy?
I was an Account Executive.
What do you think is the best part about working at Radancy?
The endless opportunities available to learn about all different aspects of our business, regardless of your specific role or job title. Also, having the autonomy to be creative and develop ideas that later become successful campaigns for clients.
What's one interesting fact about yourself that your coworkers don't know?
I'm a citizen of three separate countries: the United States, England and Spain.
Solutions you can count on. Perspective you need. And a commitment to results you deserve.
Connect with Us