Data Engineer
New York, New York
Why Radancy
Healthcare

Comprehensive coverage with flexible options, including FSA and HSA.

Flexible Time Off

Holidays. Birthday. Me-days. Take the time you need.

Parental Leave

6 weeks paid, so you can focus on what matters: bonding with your expanding family.

Autonomy

Innovate, ask questions like "what if" and try new solutions without a fear of failure.

Collaboration

Work closely with teams across departments and vendors to expand your skills.

Variety

Global reach, wide client base and a breadth of product offerings – no two days will be the same.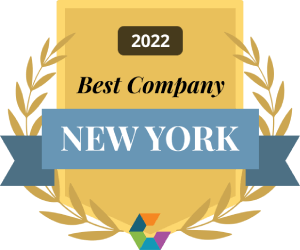 Responsibilities
Job ID 3604
Overview
Radancy Data Engineering is seeking a Data Engineer to support building new data products and services.
About
Radancy Data Engineering works on data services across product organizations within Radancy, and supports building a customer facing data visualization product. The Data Engineering team supports an enterprise grade recruitment platform focusing on talent acquisition and job opportunity exploration.

The team has extensive experience in ETL development, works with large scale data in real time, and cross collaborates with other engineering teams across the organization.
Studies have shown that women and people of color are less likely to apply for jobs unless they believe they meet every one of the qualifications in a job description. Our top priority is finding the best candidate for the job and if you are interested in the position, we would encourage you to apply, even if you don't believe you meet every one of the qualifications below.
Responsibilities
Build and maintain ETL pipelines utilizing Python that connect 1st and 3rd party data

Work with Cloud Computing Platforms (GCP/AWS), Luigi, Kafka and other open-source technologies

Conduct data modeling, schema design, and SQL development

Ingest and aggregate data from both internal and external data sources to build our world class datasets

Develop and lead the testing and fixing of new or enhanced solutions for data products and reports, including automating ETL testing

Collaborate with Product Owner and domain experts to recognize and help adopt best practices in reporting and analysis: data integrity, test design, analysis, validation, and documentation

Assist with the development and review of technical and end user documentation including ETL workflows, research, and data analysis

Work with Product team to define data collection and engineering frameworks

Build monitoring dashboards and automate data quality testing

Responsible for daily integrity checks, performing deployments and releases 

Own meaningful parts of our service, have an impact, grow with the company
Qualifications
3+ years of Python, SQL, and ETL development 

Bachelors or Masters degree in Computer Science or other related field

Product / reporting suite experience

Familiarity with C#, .Net, Kafka, Docker

Exposure to front end development: HTML, JavaScript, jQuery, Angular or similar libraries

Exposure / familiarity with Google Cloud Platform / BigQuery / Amazon Redshift

AdTech experience preferred

Enthusiastic about working with and exploring new data sets 

Detail oriented and strong communicator
Join the global leader in talent acquisition technologies that's committed to finding new ways to leverage software, strategy and creative to enhance our clients' employer brands – across every connection point. We're looking for unconventional thinkers. Relentless collaborators. And ferocious innovators. Talented individuals who are ready to work towards solutions that transform the way employers and job seekers connect.
Salary Range: $90,000-$115,000*
*The above range is based on a wide array of factors unique to each candidate, including but not limited to skill set, years and depth of experience, certifications, and specific office location.

Radancy is an equal opportunity employer and welcomes all qualified applicants regardless of race, ethnicity, religion, gender, gender identity, sexual orientation, disability status, protected veteran status, or any other characteristic protected by law. We actively work to create an inclusive environment where all of our employees can thrive.
Apply
Recent Jobs
You have not recently viewed any jobs.